featuring Elizabeth Gonzalez, Studio Director at picturehouse + thesmalldarkroom
There aren't many labs still around today that have seen both the heyday of film as well as its demise, only to be left standing through it all. picturehouse + thesmalldarkroom is one of those places, a staple in the Chelsea neighborhood of Manhattan for over 25 years. @phtsdr is now ushering in a new era of interest in the analog medium, positioning itself to cater to both the working professional as well as the avid enthusiast. They are a hybrid of sorts, blending traditional darkroom techniques with modern workflows and service. We at Born Rival have been using PHTSDR as our go to photo lab for the past several years, so it was all the more rewarding to be invited into their studio to chat about the evolution of the lab and take a peak behind the scenes at how they run their operations.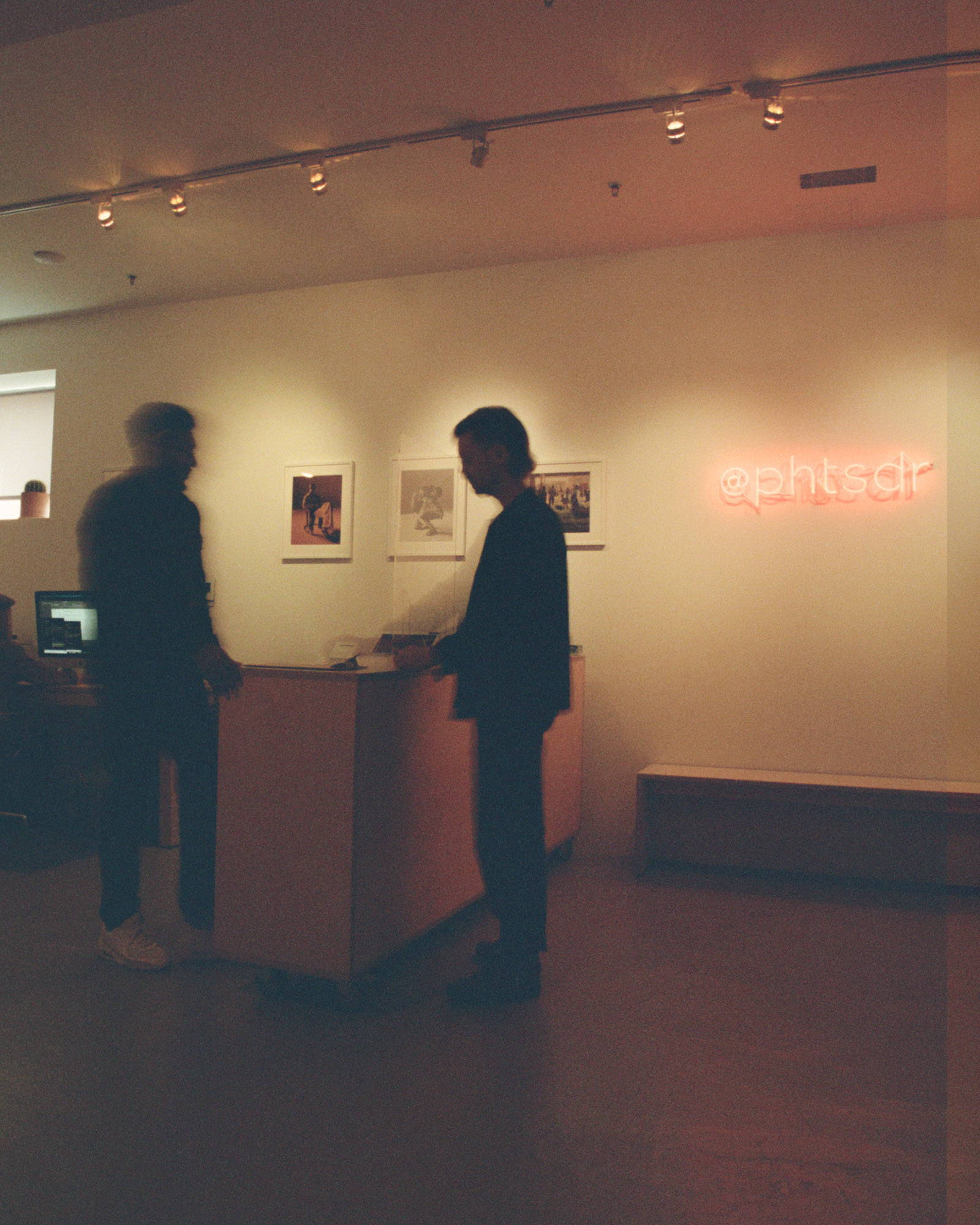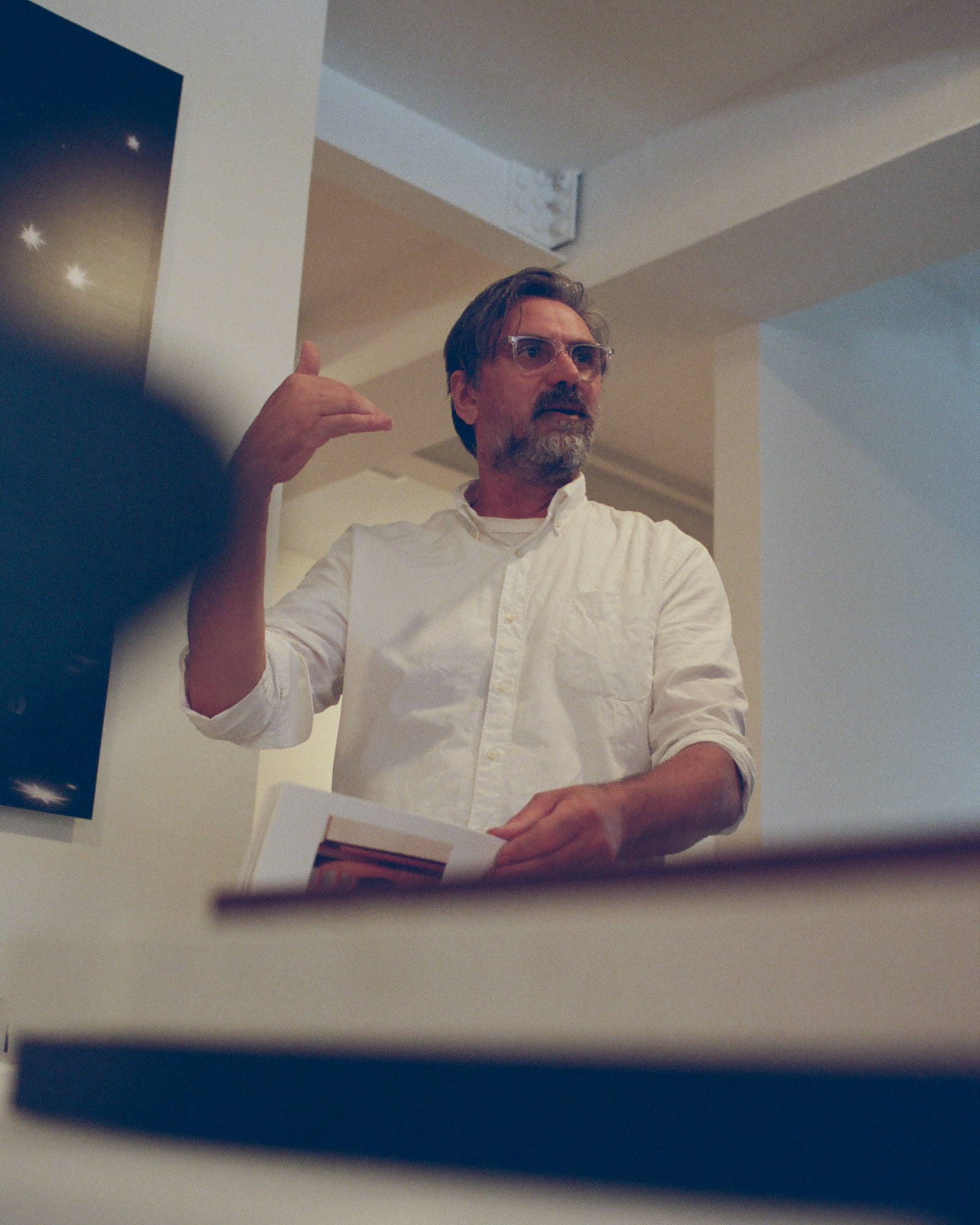 Richard Foulser, Managing Director
Born Rival: Can you give us the brief history of how the picturehouse + thesmalldarkroom came to be?
Elizabeth Gonzalez: Richard Foulser, our founder, is from the UK and started out printing in London. He furthered his printing skills in Paris and eventually moved to New York. He founded the company in 1996 and two years later, along with David Hazan, developed our digital post-production side known as picturehouse. On paper, the companies operated as separate entities until 2011, when the company officially became picturehouse + thesmalldarkroom. More recently the company added a new partner, Claudia Galindo, our long time Managing Director who has been an integral part of the operation since 2004.
Over the years, we have mostly been a commercial lab and post-production house. Yet it's never been a lab for just the pros; we cater to small photographers, hobbyists, enthusiasts… the whole spectrum. For a very long time, we felt as if we were an industry secret. If you knew someone or were on set with someone who knew of us, then you might have heard about us. There wasn't as much of an advertising sector for film processing as there is nowadays. Instagram has revived our word of mouth, but it's become a digital word of mouth. A client will tag us in a post, someone new follows us and eventually they may stop by to see us.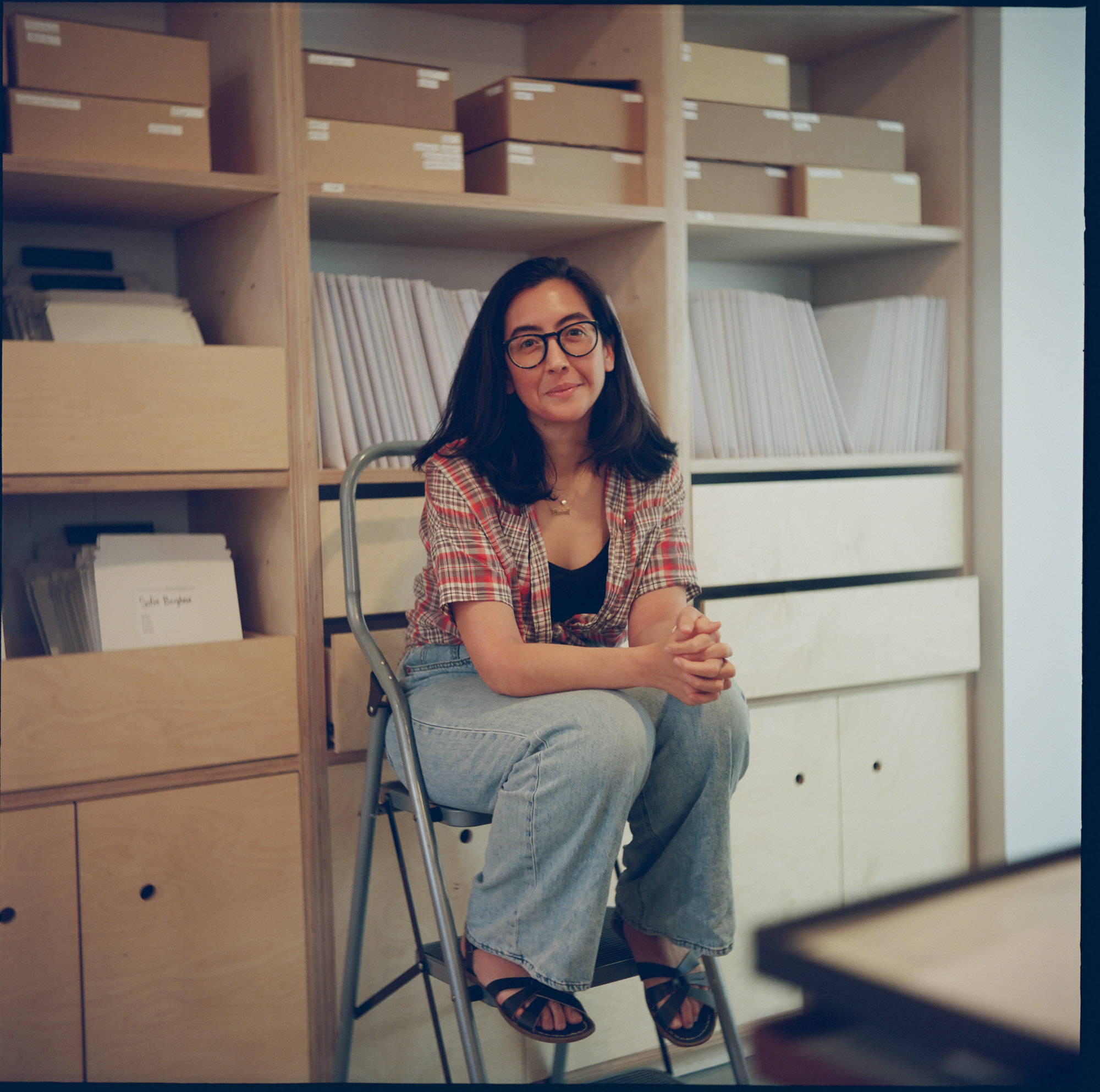 Elizabeth Gonzalez, Studio Director
Born Rival: What is your role at PHTSDR? And how have you seen the lab grow since you've joined the team?
Elizabeth Gonzalez: I am currently Studio Director and I have been here for about 8 years. When I started, the retouching and post-production side was the dominant side. There was that moment when digital started taking over so film production got reduced, but film hung in there, and in the more recent years film has made a strong come back, and it has been great to see our team growing to accommodate more film related projects in both the darkroom and the digital post side. We're a relatively small team, but we've been slowly but surely growing in the last three years, which is really nice.
We also recently relaunched our website, along with the new studio/lab space. It's a great rebranding. We now have an interactive online mail-in system where you can fill out forms and in due time we will be offering more services, like printing and book shopping directly from our website. So we are expanding from being the little secret post-production house in the nineties, nestled and hidden in Chelsea. We have now expanded into a space with a bookstore and offer expanded mail-in service in addition to walk-in service, which has revamped us into what we are now.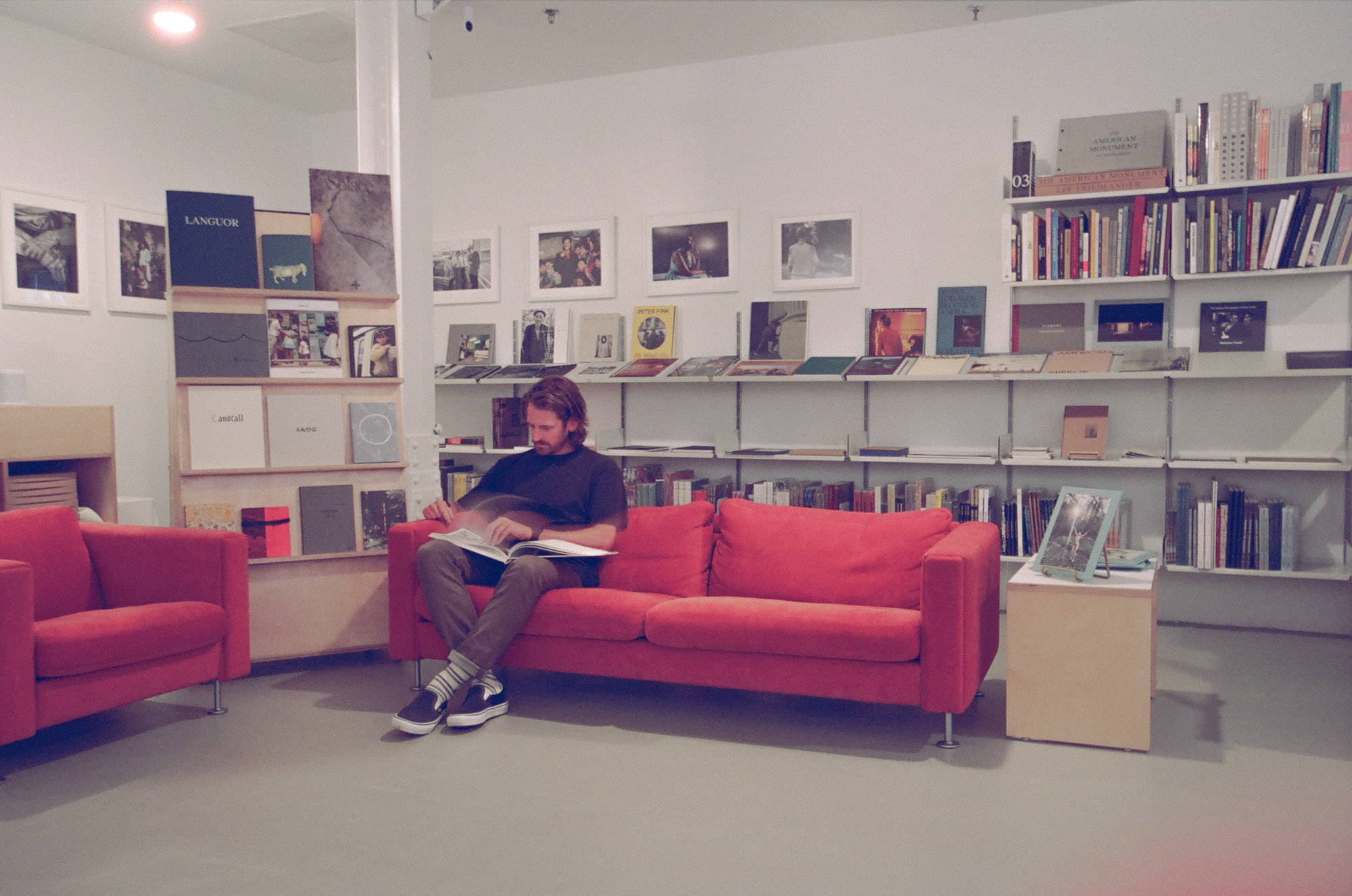 Born Rival: It's interesting because you are adapting to the times, right? It's been about 25 years since PHTSDR has opened so you kind have to do that, just to stay relevant. But in doing so you've done it in a tasteful way that still retains the history, the prestige, and richness a lab like this has and it hasn't dissolved the studio in any way by doing mail in orders or having an Instagram.
Elizabeth Gonzalez: We do have the wealth of knowledge of being around for a very long time, a lot of our Darkroom staff has been in the industry for 20+ years. That definitely is a testament to the quality of work that we produce. There are always new things popping up, especially with the film community itself being different. There is the workflow for some of our newer shooters – working mostly with roll scans, as opposed to doing contact sheets and eventually prints. We do specialize in darkroom prints so it might come across as a bias but it's not necessarily a better or the truer version. It's just different. Also there are smaller batch film types that we'll see for the first time, or a roll that someone hand spooled that is in a Kodak canister but there's a sticker on top. It is interesting seeing things that our new to us. Our printers are now printing CineStill film, which they didn't print 20 years ago because no one really shot motion picture film in still photography cameras. So those are the types of things that we are adapting to, but also get to play with which keeps it fun. We feel reinvigorated and are happy that there's been a surge in the last 3 years of new people shooting film.
Born Rival: For someone who might have just got into shooting film 2 or 3 years ago and is just getting their scans digitally, there's a chance that they expand their interest and dig further to see what darkroom printing is about, or how they can make prints. For them to learn that they can do it all in the same lab that they've been going to for their scans positions you in a great place for them to grow since you've been handling the full process for 25+ years.
Elizabeth Gonzalez: We like to think of ourselves as a one stop shop. You can drop off your film, you can get digital prints, you can also get darkroom prints or just get scans of those negatives if you are going to live in a world where it exists only on a screen. But if you get into film you might want a tangible image. The mini-lab or quick print as we sometimes call it, is something we'll be offering early next year. Whether having a print or not, film is tactile. It is something that we're happy to discuss with people because not everyone necessarily realizes what is inside their disposable or what the actual film looks like because they are new to it.
If you were born in the early 2000s the chances of you knowing what a 35mm canister is or what's going on inside the roll are low. You'll assume it's a battery before knowing it's film if your parents didn't shoot with a film camera. For those who've been around it a little bit longer, those little things are taken for granted. Those new to film may have really only seen an Instagram post and picked up a camera. Which is great, and we're happy to help and explain some stuff because we want people to be successful. It's a bummer when someone shoots a blank roll. We want to get people comfortable with their cameras and help them understand what's happening so that they can get those images that they were hoping to get and be excited to keep shooting.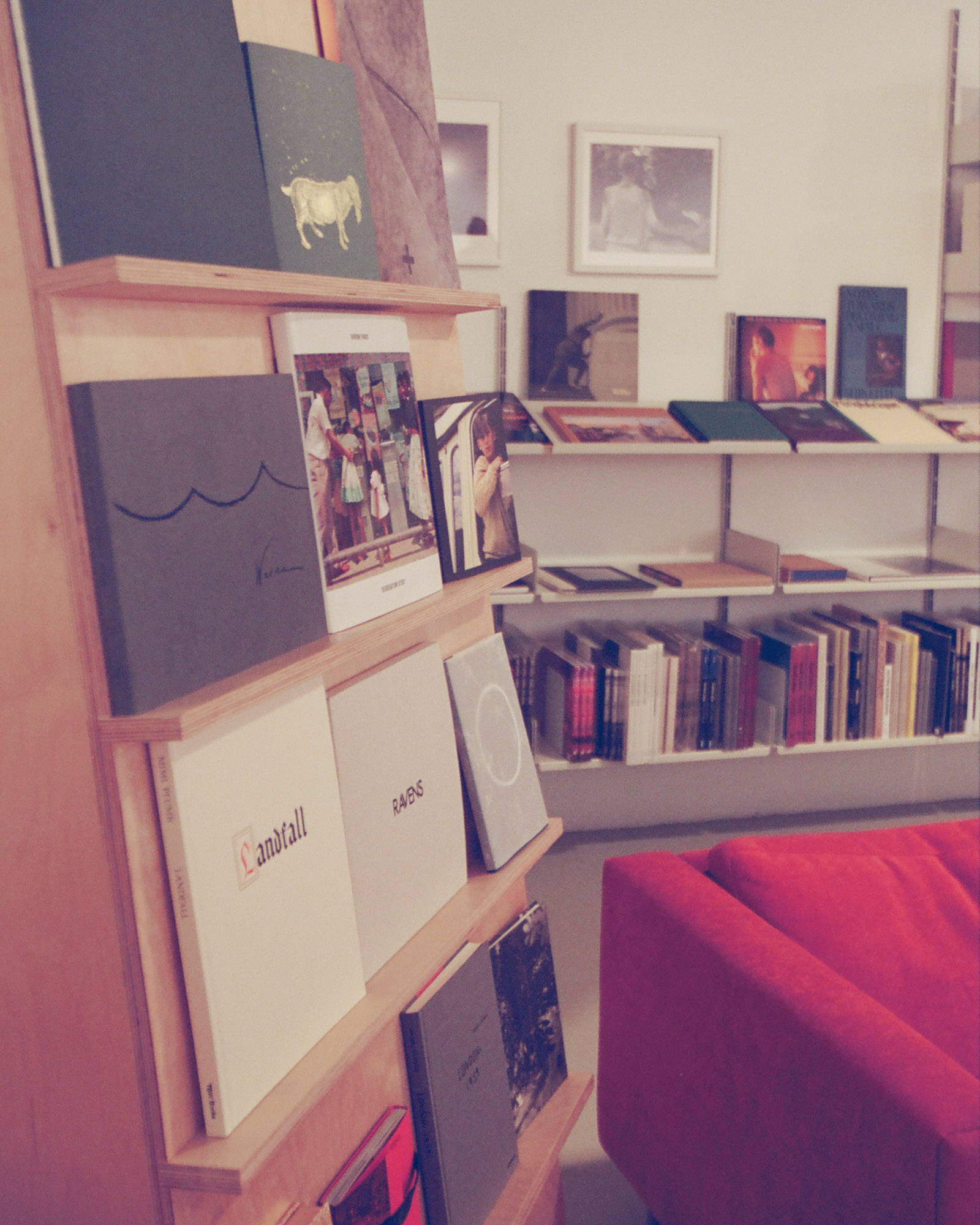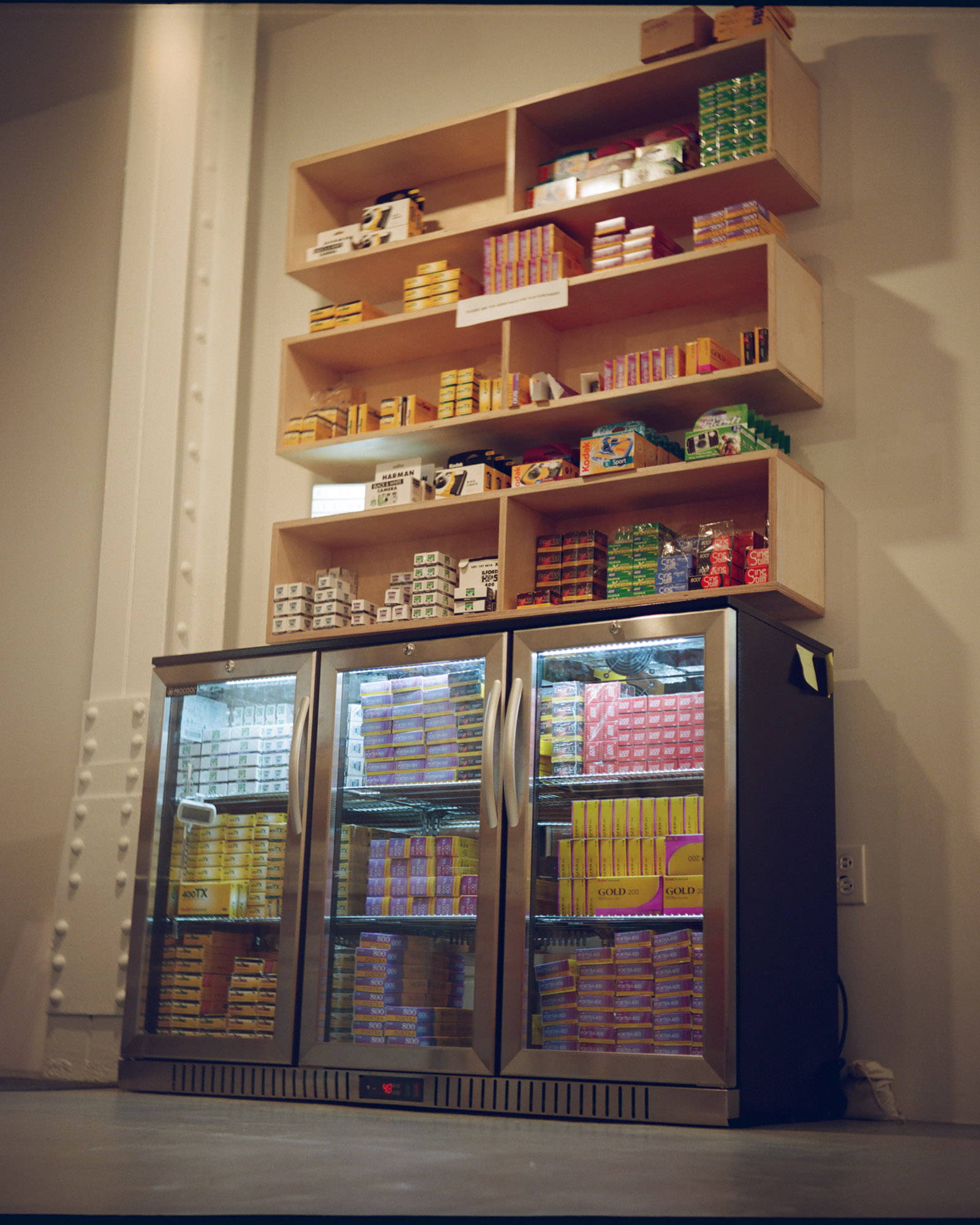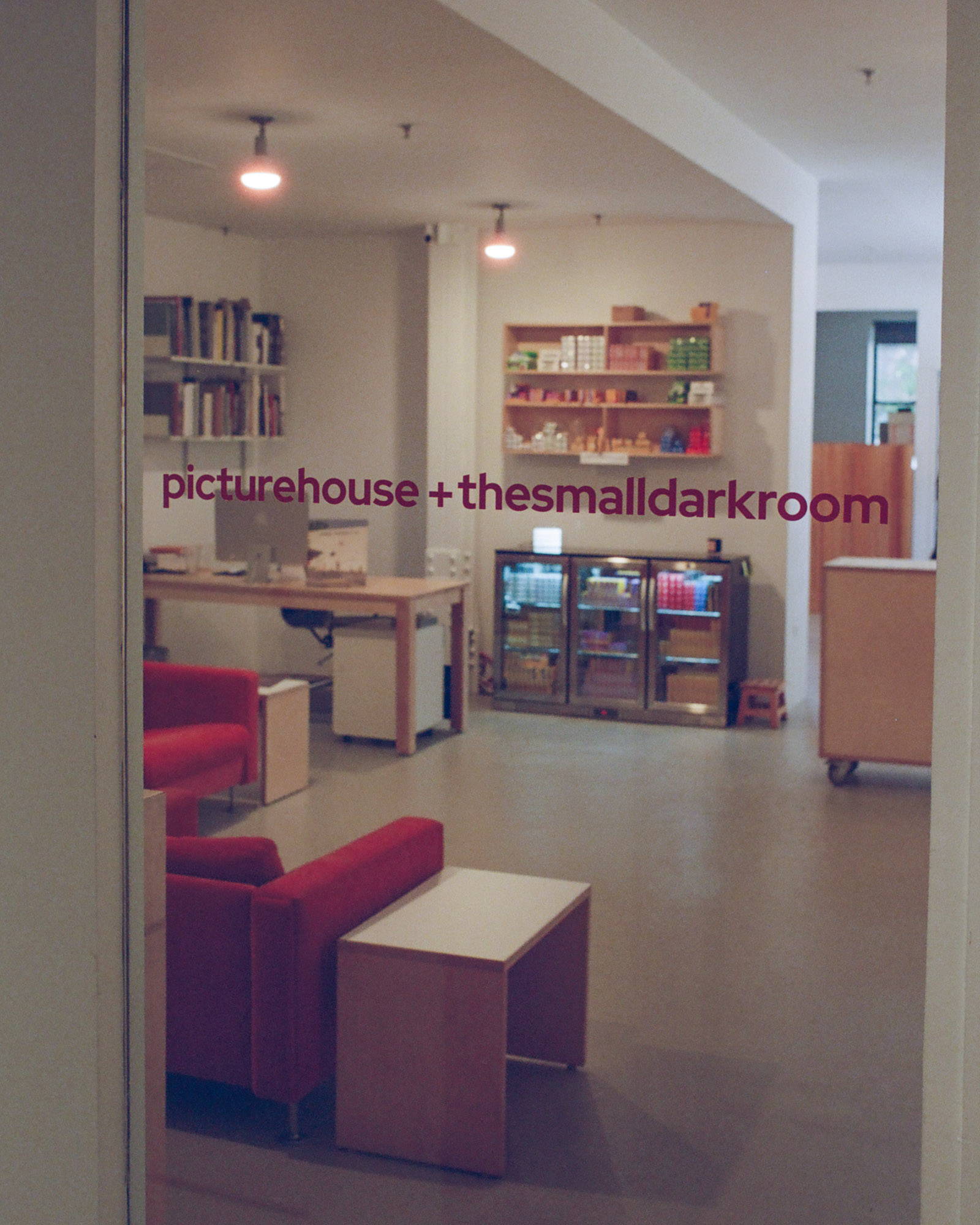 Born Rival: Talk about the film community here in New York. How does it feel to be part of this photography community here, specifically from a lab point of view?
Elizabeth Gonzalez: It's interesting because I consider myself to be new in the film photography game as far as the lab's backstory goes. Some of our staff members have circulated through different labs before landing here, and will talk about old labs that existed way back when and who they know. Traditionally, I think it's been a very small community where everyone is connected in some way.
There are a lot of great street photographers here in New York, like Daniel Arnold and Andre Wagner, it's cool to sometimes see them out working on the street. We want to feel like we're a good member of this vibrant photo community, and that's part of our approach with our new space. We currently have our bookstore open and will be hosting book signing events. People want hubs, considering that's where the meetups happen. We want to make our space a go to spot where clients can feel comfortable to shoptalk or be social with those who are interested in film but not necessarily looking for a critique.
Born Rival: Let's talk about the new studio space, which you call the Library. It really is just a beautiful space. You have touched on making it a community hub, so tell us more about what it is and what you hope it can become.
Elizabeth Gonzalez: For the last 6 years, our public facing space was only a small hallway in the lower level of this building, where someone who would come out, say hi and be the drop off or pick up point. We have since expanded up to the third floor, which now serves as our receiving area as well as the bookstore. It is somewhat a reference library, but you can also buy beautiful photography books that you're excited about. We are also carrying a lot of zines and other types of work that we find interesting. We want to have it out there so that people can get an idea of other people's work and projects, both contemporary and more traditional bodies of work. As mentioned, we will be hosting book signing events to promote photographers who have new and existing publications.
Photography is such a visual medium and when you see something in person, you get inspired. The Library is a place where you can take a minute, page through some books, look at your film, maybe ask some questions, consider doing darkroom prints or maybe just have a space to sit in that sparks an idea that turns into your next project.
Born Rival: There's nothing like picking up a tangible book and flipping through some pages, finding inspiration, and feeling motivated to go out and create more of your own original work.
Elizabeth Gonzalez: In my mind, when people get into film it's because they like the physicalness of it. You're working with something that you can actually take to a light table and, even if you don't print it, you can still look at it and see what it is. You always have a hard copy if you want to do more with it down the line. Scanning, printing, adding to your portfolio, making a little story on your Instagram or creating a book or a zine. There are so many things that you can do with your images. We are trying to expand people's minds by showing them that you can do so much more.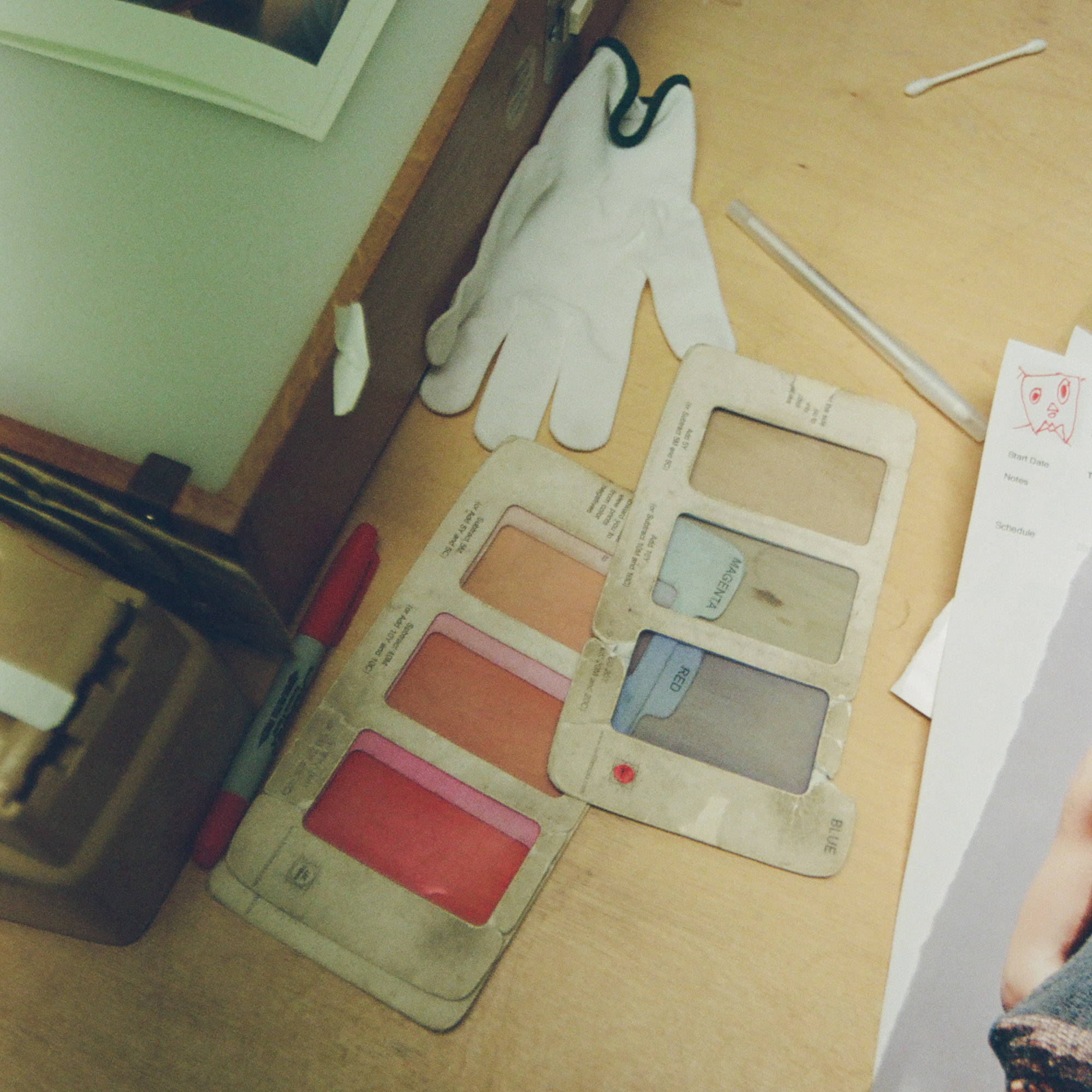 Born Rival: What's it like hearing from people who come in and out of your doors and to see the range of talent? We're curious about those interactions.
Elizabeth Gonzalez: For me personally, it's honestly exciting to witness the change in range of talent. When I started here there was a point where it was mostly established photographers shooting bigger campaigns. In just the last few years, we've seen a positive influx in diversity with photographers from all different backgrounds being given the opportunity to shoot bigger projects. Getting to see the actual shift in the industry has been really great to see. We love seeing our younger photographers progress into bigger shoots from starting out shooting smaller projects, or as assistants. And also the fact that they are getting the support to shoot film for these projects is amazing!
There's always a tricky part of shooting film professionally – you can invest the time and resources but whether or not you're going to eventually get somebody to pay for that part of it is always a question. You may have to go out of pocket to create work that you're more excited about, or to build your body of work, but then you don't make any money. But we're now seeing producers prioritize film into their budgets, which is something that hasn't been a thing until recently.
Born Rival: What's it like for those who aren't quite at that professional level, how do they fit into a lab like PHTSDR?
Elizabeth Gonzalez: I like talking to our film enthusiast clients who are passionate about photography, just as much as those making a living with their images. As long as you're excited about it and want to learn, I'm happy - we're all happy - to take the time to share our knowledge and talk shop. There are tricks that you can pick up that you don't necessarily get from, you know, watching a YouTube video on how to load your camera. It's always nice to get the opportunity to give that to people and to be able to provide the space where they can get those answers. We want people to know they have choices they can make when they get their film or files. We like to be informative so that clients understand what's happening and how they can get the results that they're hoping for. We're glad to see and work with this new crop of photographers.
At the same time, we have clients who have been coming here since I started here 8 years ago. It's great that they're still sticking with us and that they've stuck with film. When I started here, there was a point where a lot of professional photographers had shifted to digital. While it still might not be the standard, I personally feel that across the industry more and more brands seem to support and be attracted to the look of film because I think everyone is overwhelmed with how crisp digital looks.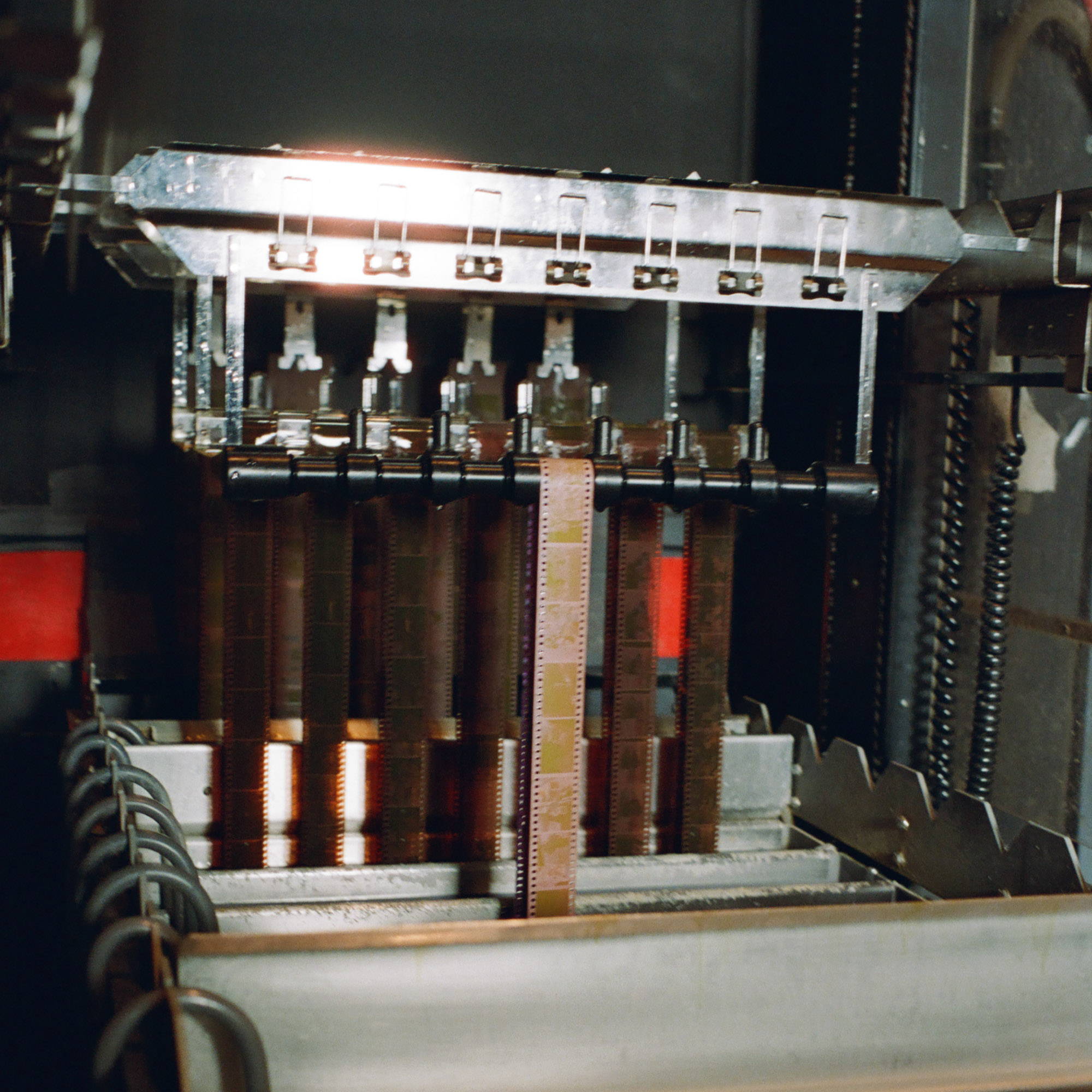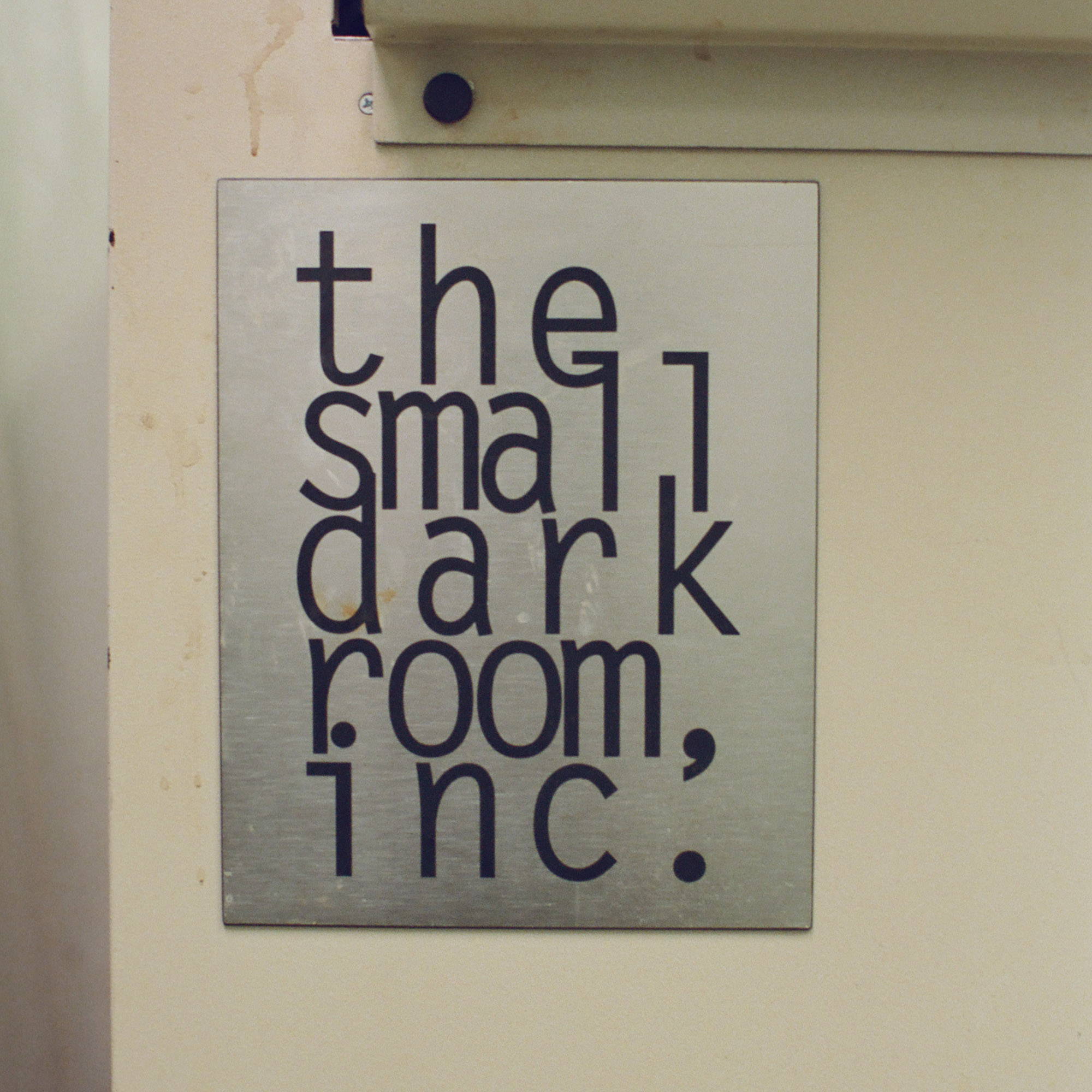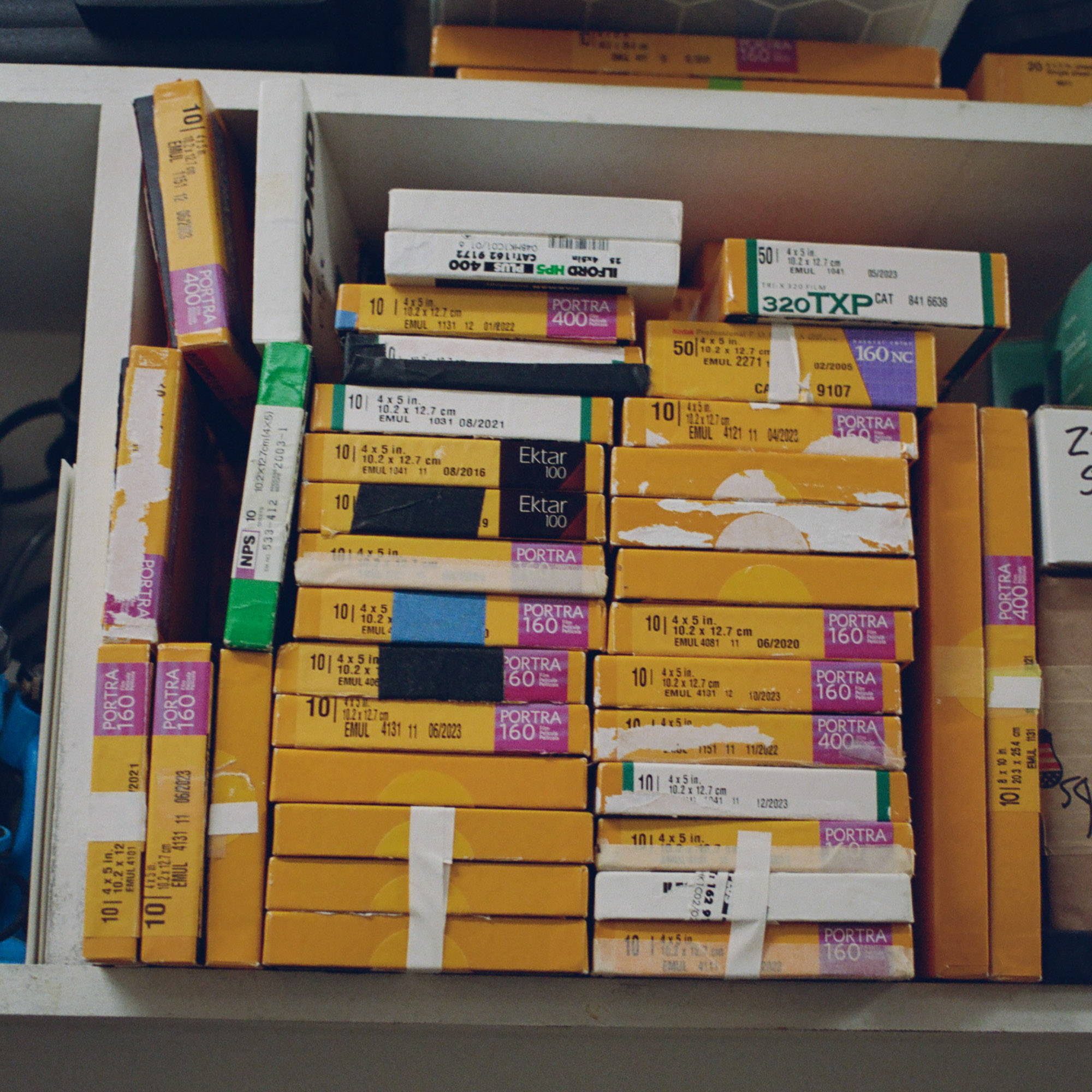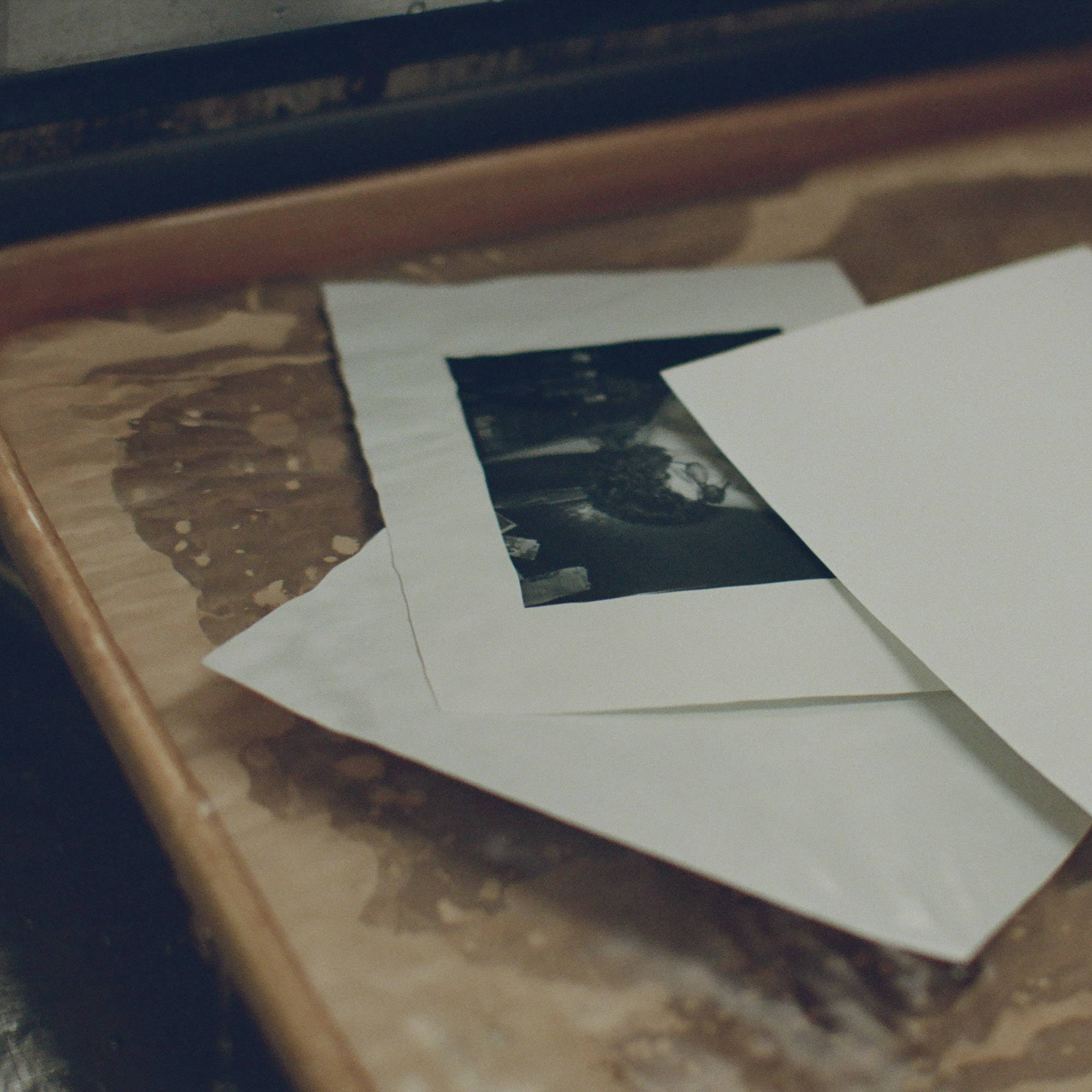 Born Rival: We find it so hard to drop off a roll with a lab we've never used before. How do you gain trust from your clients, both big and small?
Elizabeth Gonzalez: I think the mindset regardless of an amateur or a professional photographer is that you want to trust whoever you're giving your film to because it is ephemeral. As much as it can be automated, bad things do happen, be it freak of machinery or human error. So you want to feel like if something does go wrong that you will be given an honest answer as to what happened.
We want our repeat photographers to feel like they have a relationship with us here. We want them to feel like they're actually getting attention, and that we care. If something's wrong with your camera while you're on a multi day job, you want to know about it before you get too far into the shoot. If your flash isn't syncing with your shutter, you want to know that immediately, right? Or if something's out of focus, it could be a lens issue.
It's that relationship of knowing that someone has their eyes out for you and someone is trying to help you be successful. For our pro-working photographers, they know that they can communicate with us in terms of what their timelines are, what the expectations are from the client, so that we know if and when they need scans back the next day. The client is often allowing them to shoot film because we're agreeing to meet those deadlines.
Whether it's family vacation photos or something for a big advertising client, we care about those photos. So it's not that a campaign means more than any other photos. We know that each shot is special, so we take care of them. We want to make people feel like they're getting a warm hug [laughs].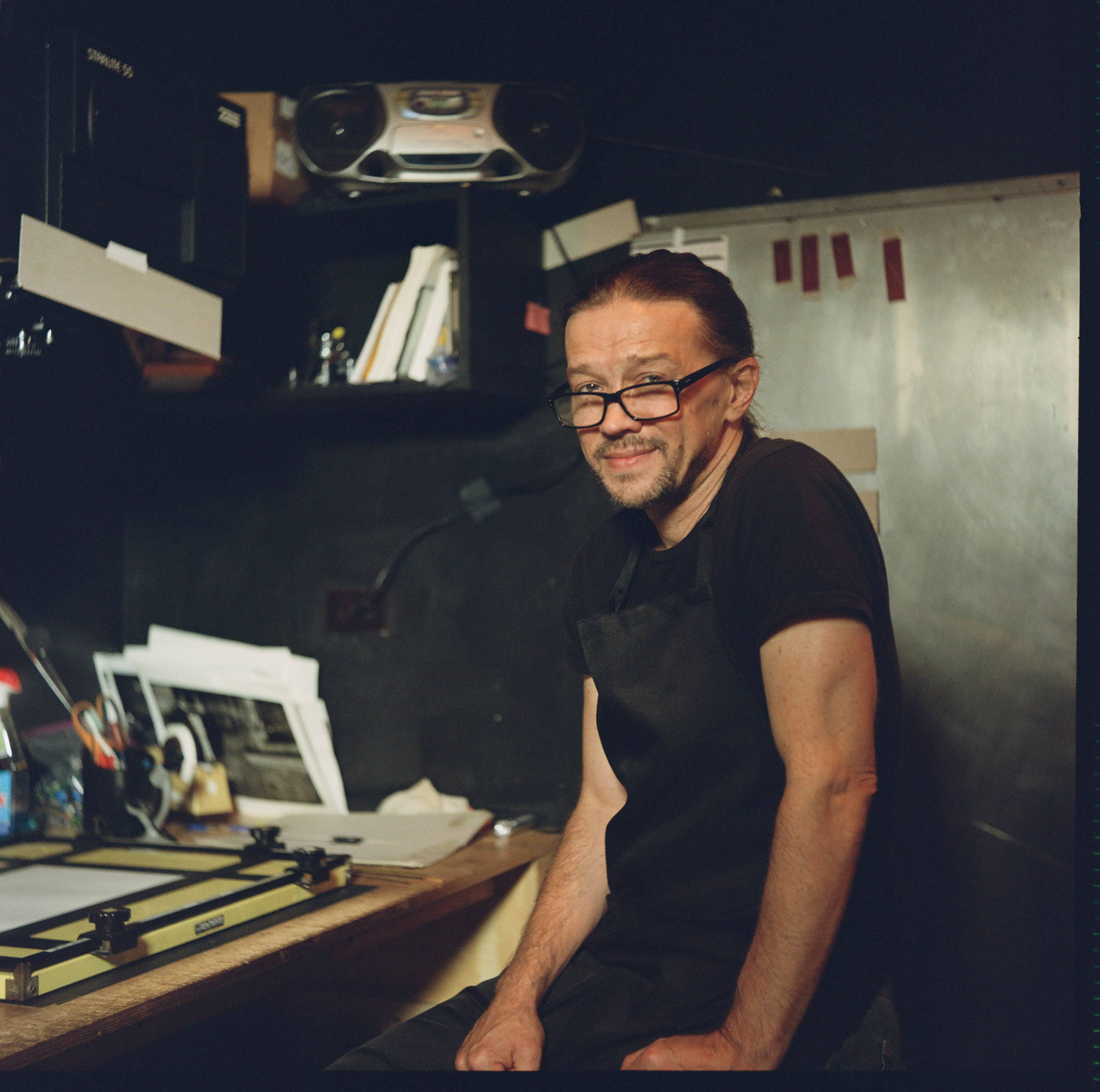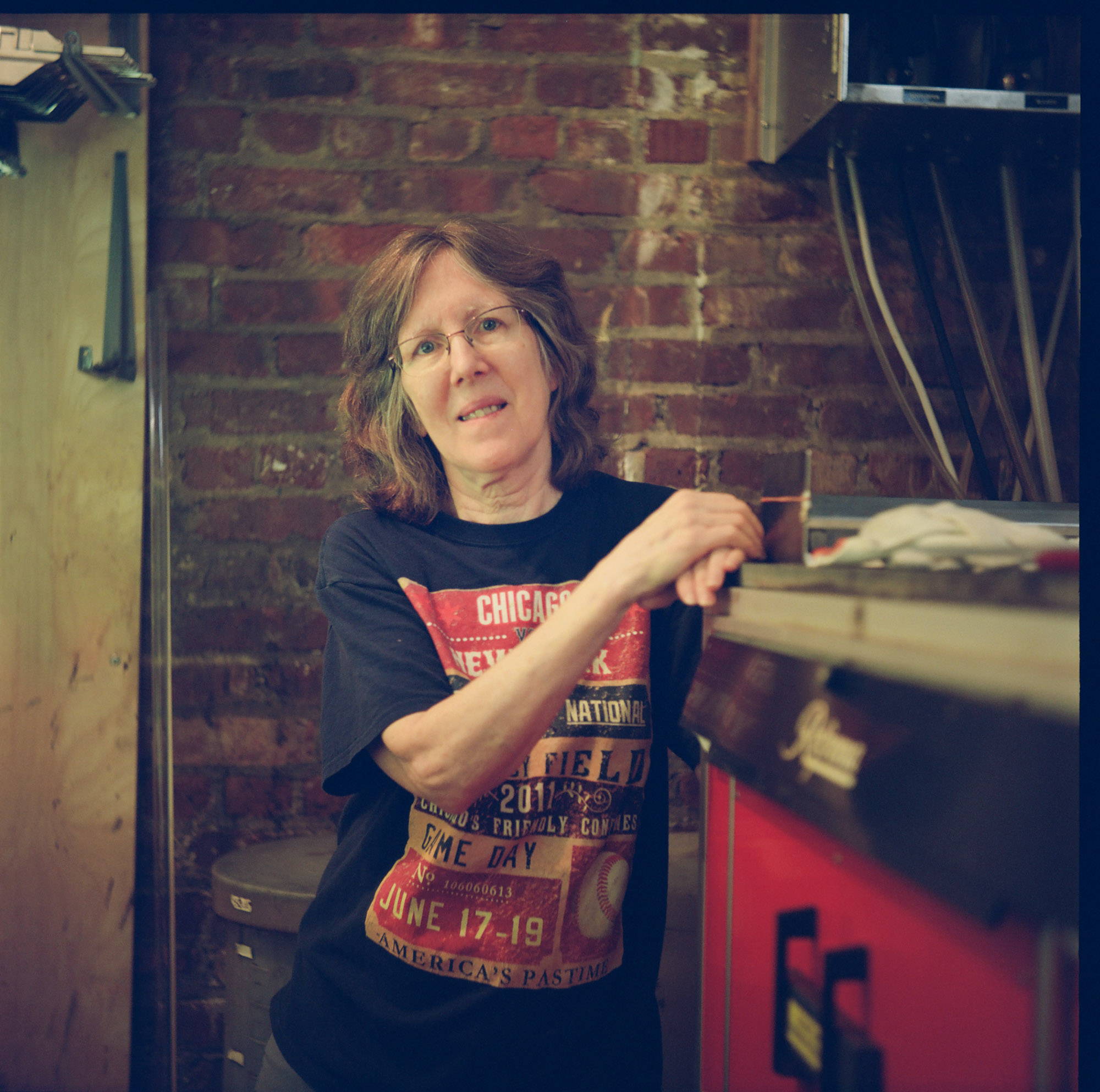 Robert Santiago, Lab Master
Born Rival: What do you enjoy about being here at PHTSDR?
Elizabeth Gonzalez: The fun thing about being here is the new comers to film but also being around the those that have been around for a very long time. It is a wealth of knowledge in our darkroom. There's Debbie, Robert, Jimmy, and Julio. Collectively between all of them, gosh, there's at least 60 years of experience if not more. Robert's been doing this since he left the Navy. Jimmy's been doing it for at least 30 years. Debbie had her own black and white darkroom where she touched some amazing images throughout her career. Julio has been bouncing around from owning his own spot to labs around the city as well. They tell me about the nineties, the heyday of everyone ordering bazillions of prints and what it was all like.
Born Rival: Just knowing the expertise that is downstairs in your Darkroom is pretty awesome and certainly makes us feel really good about dropping off our film here.
Elizabeth Gonzalez: That is what we hope to bring to the table. There are darkroom services and practices that are fading away. Developers or film types getting discontinued, certain processes that are no longer viable. Traditional retouching on a negative, for example, is something I only know of a handful of people who can still do at a professional level. Of course we have other ways to do that now, digitally, but if you were to traditionally print a negative in the darkroom at one point there was someone who could look at a film negative and fix it. It's insane to see what they can do. But we are hoping to be a hybrid, marrying the traditional darkroom with the modern sensibilities and utilizing current workflows when those older practices are no longer an option.
Born Rival: It speaks to the very essence of film, how finite it is. There's a tradition of passing down knowledge, learning how things work from the people who came before you. That needs to happen in order for this whole thing to continue to be possible.
Elizabeth Gonzalez: That's the thing, it's true of anything that you do. The more you see, the more you run into problems, but you know how to shift and how to pivot because you've seen it before. We are bringing in younger staff members to learn and who hopefully gain an interest. It's amazing what you can pick up just being here! I know when I started I felt very green with a bare bones knowledge but with every year I feel more confident in my darkroom and digital knowledge. A lot of our downstairs staff started out as film cutters and then moved into scanning. One of our scanners used to be a color printer for a very long time and then he pivoted to scanning because that's where the job opening existed. So it's all about adapting to the changing industry. What is out there, what's available, that's what we need to learn.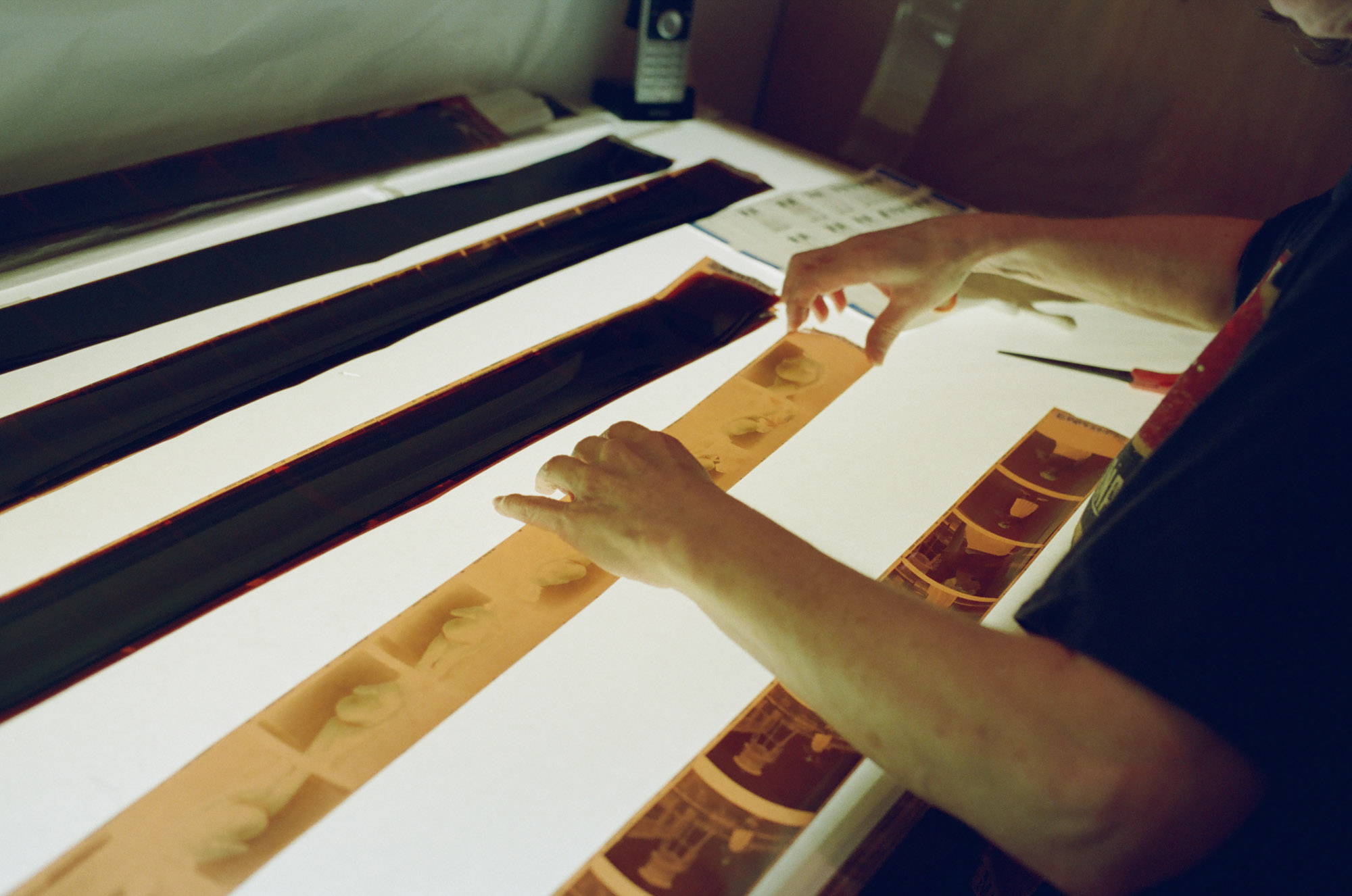 Born Rival: Thanks for the chat, we are really stoked for you guys and your new space. We hope lots more people are able to come see it in person, but also have gained insight into PHTSDR's capabilities and expertise.
Elizabeth Gonzalez: We're all just excited about film, shooting it ourselves, working with it, getting to see and be around it all the time. Especially because there was a point in the not so distant past where it felt like film wasn't going to be around anymore. We all saw when it got scary and remember thinking that it won't be around forever. So it is great to see film being healthy again and it just gets us really excited. I think we did 1,700 rolls during NY Fashion Week. We were surprised that was the number we hit [laughs]. It's good to know that that's what we can do, because we don't always get put through that volume of pace. When I first started here, I thought 70 rolls was a lot in a day for us to scan, not even process, but to just scan. Now it's a different world. We are just feeling really grateful, especially to work in this space.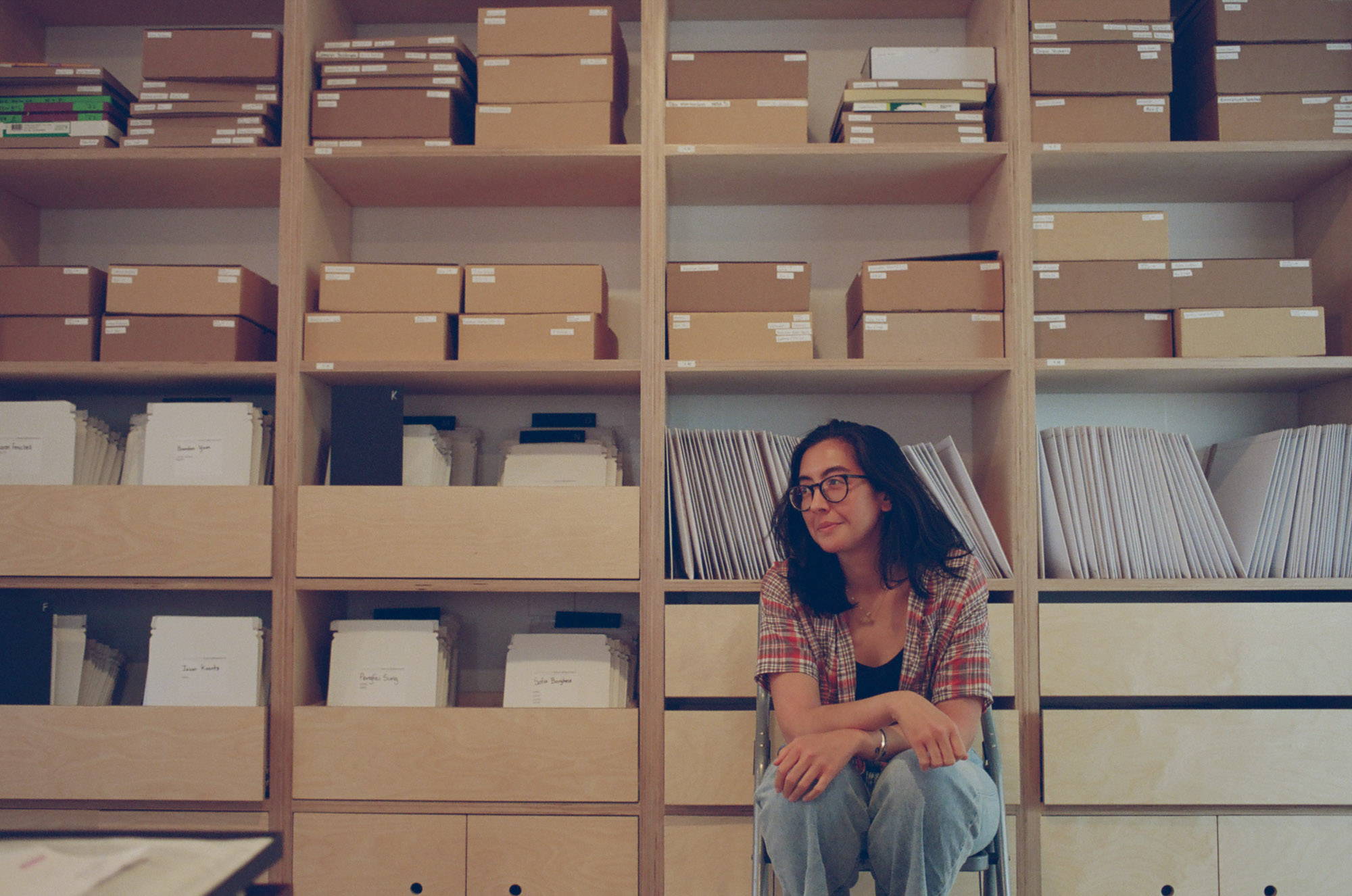 Visit picturehouse + thesmalldarkroom next time you're in NYC: www.phtsdr.com
---